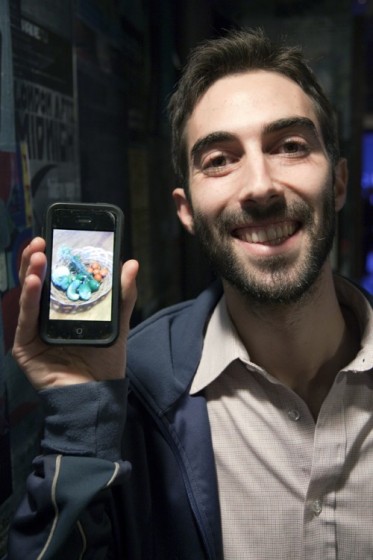 Eat Drink Local Week (it starts tomorrow, natch) is primarily a restaurant week, one where our partnering restaurant kitchens serve up even more locally minded meals than they  normally would and feature the seven ingredients we've decided to laud for the week in special dishes. But eating local (or drinking local) isn't just about buying, it's also about cooking, about community. To that end Eat Drink Local Week includes an annual Challenge to get you doing exactly that.
Below are a few ways we've suggested to Eat Drink Local between June 24 and June 30. We're also open to your own ideas. All you have to do is bring proof–a photo of your farm trip, a jar of jam, a drawing made by making local fish prints–by the market manager's table at Union Square Greenmarket tomorrow, Saturday, Monday or Wednesday and you'll be eligible to win prizes. We're going to gift the seven best folks who embody the spirit of Eat Drink Local with a few goodies we'll be announcing later in the week. If you can't come by the Greenmarket, no worries, you can also give us a shout on Facebook, Twitter, and Flickr. Now, onto the Challenge ideas:
1. Hit a locavore eatery you've never tried before.
2. Shop at a Greenmarket you' ve never been to before. Get the map at grownyc.org.
3. Drink like a local! Swig libations from New York breweries and wineries. Bonus: make a farmy cocktail starring local herbs or produce.
4. Eat a fruit or vegetable you've never tried before. Hello kohlrabi!
5. Get to know a new local cheese. Bonus: Make yogurt, creme fraiche, butter or ricotta.
6. Eat a cut of meat you've never tried before. Bonus: eat a species you've never tried before. Double bonus: hunt.
7. Cook local grains. Bake bread, boil wheat berries, make polenta or just pop some popcorn.
8. Swap out sugar for local honey or maple syrup.
9. Churn market bounty into ice cream or sorbet.
10. Cook your cast-offs! Think corn cob stock, sauteed beet tops, and pickled watermelon rinds.
11. Preserve! Pickle cucumbers, can grape jelly or freeze pesto.
12. Forage! Go on a guided hunt for wild mushrooms, search for blackberries in the hills near Fort Tryon, take home ginkgo nuts from Central Park, pick purslane from the cracks in the sidewalk.
13. Shuck your own clams, mussels, scallops or oysters.
14. Make a dish using the Native Americans' three sisters: Corn, beans and squash.
15. Check out a cookbook from your local library.
16. Compost your kitchen scraps. Find drop spots at: nyccompost.org.
17. Ponder the gospel according to Berry: Read a great food book. (Peruse our favorites below.)
18. Visit a farm, orchard, dairy, winery or brewery.
19. Drink only local water—it's called "tap," people.
20. Throw a party, and have each guest bring something inspired by this list.