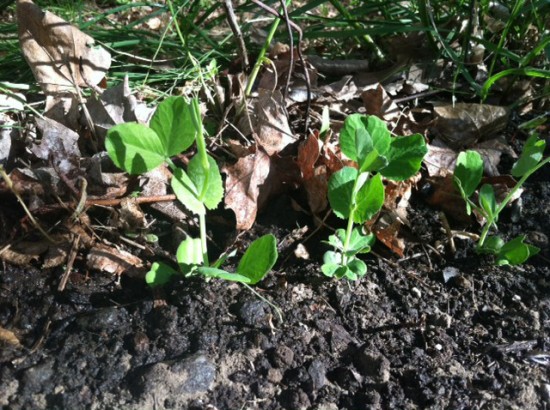 Peas are showing up on purportedly locavore menus around town, but honest local pods won't debut at Greenmarket for another month or so. Until then, we like to pre-game with PEA SHOOTS, which are literally popping up all over and contain the true taste of the finished product, minus the waiting. (It's even easy to grow your own: just plant some peas and in a fortnight you can snip the greens—about as close to instant gratification as a gardener can get.)
Speaking of must-get goods, the In Season cookbook, from my idols Rob & Robin over at New York mag, is almost as essential for Greenmarketeers as canvas bags and cash. The book contains more than 150 recipes from market-minded kitchens including this one, from Mercat:
Catalan Pea Shoots
Serves 4
1 pound pea shoots
½ cup pine nuts
½ cup raisins
2 tablespoons unsalted butter
Salt
2 tablespoons good olive oil
Over medium-high heat, in a pan large enough to hold the pea shoots, cook the pine nuts and raisins in the butter until the nuts start to brown. Add pea shoots and a pinch of salt, and stir until shoots cook down, about 30 seconds to a minute. Taste, add more salt if you like, leave excess butter in the pan and finish with a drizzle of olive oil.