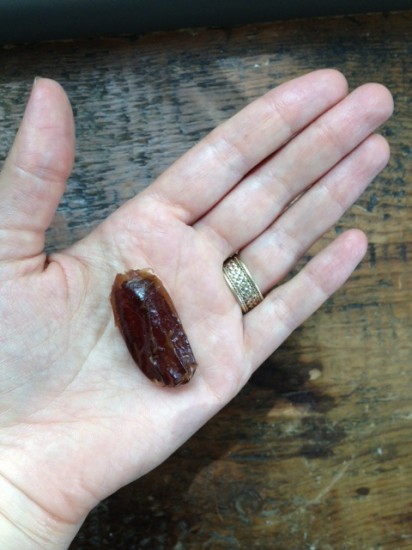 These days I'm stuffing myself on summer: early peaches with breakfast, CSA sweetcorn with lunch and a bumper crop of zucchini with dinner. But right now many New Yorkers are fasting from dawn to dusk for the annual Muslim observation of Ramadan.
Ramadan, as we explored in this feature story, is foremost a time to experience hunger: Muslims around the world fast to remember the suffering of those in want. But the month also commemorates food and family, with unique dishes, drinks, and desserts revived taken at night to slack thirst, give succor, and bring people together.
This year Ramadan, which marks the revelation of the first verses of the Koran to Mohammed and falls approximately two weeks earlier each year, began July 8 and runs until Aug 7. During these 30 days, observant Muslims fast from sunrise to sunset, but each night, families and communities gather for evening prayers and sumptuous spreads. At the end of the month, daylong fasting gives way to midday feasting in the annual Eid al-Fitr holiday—think Christmas, but with beryani lahim in place of Brussels sprouts, kebabs swapped in for carrots, and Turkish delight instead of turkey.
Today Muslim families have settled across New York. Each nightfall right now, their homes are filled with people breaking their fasts with some of the oldest—and most delicious—flavors in the world.
Eating dates at dusk is as old as Ramadan itself: Mohammed is said to have ended his own fast with the fruit, which is among the sweetest on Earth, gives your blood sugar the spike you need after fasting, and thus is a staple, enjoyed fresh or dried, depending on Ramadan's season. (The monthlong holiday is set according to the lunar year, and shifts on the Gregorian solar calendar.)
But New Yorkers who aren't fasting—or even Muslim—find Ramadan nightfall a prime time to experience tastes of the Arab world without leaving the borough. You might not know in what direction Mecca lies, but you can surely find your way to one of the borough's many Middle Eastern groceries, which stock special foods all month long.
"During Ramadan, it's kind of a party atmosphere around here," says Charlie Sahadi, the owner of the landmark Sahadi's on Atlantic Avenue. "All heck breaks loose!"