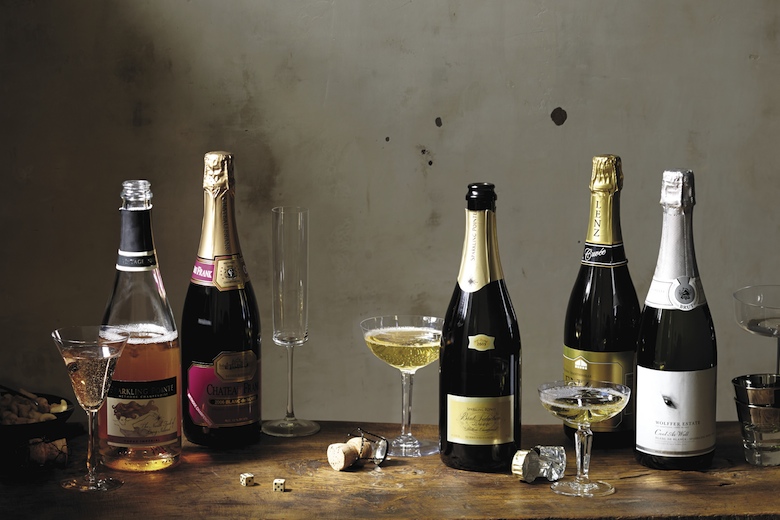 The Finger Lakes have become well known for riesling, but before there was riesling there were bubbles. Upstate-made sparkling wine even predates Prohibition: The Pleasant Valley Wine Company, in Hammondsport at the south end of Keuka Lake, began producing sparkling wine in 1860 and is in fact U.S. Bonded Winery #1.
But while production of Great Western, Pleasant Valley's best-known sparkling wine, has moved across the street to more modern digs, their original facilities which are now registered historical landmarks and worth visiting include giant redwood tanks larger than some Manhattan apartments and a massive antique computer that wouldn't look out of place in a Bond villain's lair.
Great Western's label reads Great Western New York State Champagne, and it does follow all the procedures traditional to Champagne: an initial fermentation followed by a second fermentation in the bottle, aging on the lees (spent yeast cells) in the bottle, then riddling, disgorgement and dosage (do-SAHZH), whereby the lees are removed and replaced with a little more wine and perhaps some sugar to balance out the final acidic zing.
But while the steps are the same as for French Champagne, the difference is the grapes. Great Western's brut is a blend of Aurore, Delaware, chardonnay and Catawba, only one of which, chardonnay, would be found in a true, French Champagne. Chardonnay is a member of the Vitis vinifera species, which originated in Europe and includes all of the well-known wine grape varieties, while the others are either from species native to the U.S. (known as "labrusca") or climate-hardy hybrids of the two.
"Historically the sparkling wines [in the Finger Lakes] were not vinifera," says Barbara Frank of Dr. Konstantin Frank Wine Cellars. "They were native grape varieties and French hybrids. With early harvesting you get less of the foxy character" that many find disagreeable.
Konstantin Frank, Barbara's grandfather, emigrated from Ukraine in the 1950s and demonstrated that vinifera grapes could survive the local winters — after all, he had grown them in the even harsher climate back home — inspiring the "Vinifera Revolution" that revolutionized Finger Lakes wine. Two generations later, Barbara and her siblings would bring vinifera varieties — specifically those traditional to Champagne: chardonnay, pinot noir and pinot meaner — to their own sparkling wine project, Chateau Frank.
At first Konstantin himself was not convinced, but Barbara's generation saw sparkling as a way to put their own stamp on the company, and Chateau Frank was born in 1985. A historical building from the 1800s provided the perfect location for aging the wines, its fieldstone foundation and cellar replicating the humidity and cool temperatures of a cave.
Using all three traditional Champagne varieties was such a new idea that Chateau Frank was the first East Coast winery to grow pinot meunier. Today they make five different sparkling wines. The brut is a blend, while the blanc de blancs is all chardonnay and the blanc de noirs mostly pinot noir, with a touch of pinot meunier in some vintages. In the early 1990s they introduced the Célèbre range, which are non-vintage and focus on fresh, fruitier aromas. They make the white from a grape not found in Champagne but common enough in the Finger Lakes: riesling. The Célèbre Rosé is 100 percent pinot meunier.
Garnet Wines & Liquors on the Upper East Side carries Chateau Frank as well as sparkling wines from fellow Finger Lakes winery Red Tail Ridge. The latter are hard to find outside the winery tasting room because they make minute quantities — fewer than 100 cases of three different wines each vintage. Nina Battapaglia, Garnet's sparkling wine buyer, says those are just part of the 50 New York State wines they carry. "We're very committed to New York State wines; they've come a long way."
Her brother J.R. agrees, and characterizes the state's sparkling wines as "not as fruity as California wines; they're in between California and European sparkling wines in style."
The Hudson Valley is also home to sparkling wine history. Brotherhood Winery, in Washingtonville, was founded in 1839 (U.S. Bonded Winery #2 in federal records) and was also making bubbly before Prohibition. It survived those dry years as Pleasant Valley did: making sacramental wine. Today they make four sparkling wines using the same classic methods, including a 100 percent chardonnay blanc de blancs, a French term that literally translates to mean "white from whites."
Across the Hudson from Brotherhood, Clinton Vineyards also has an intimate connection to Champagne, but they work with an unlikely grape, seyval blanc. It's another hybrid, bred to thrive despite the cold and phylloxera, an aphid deadly to Vitis vinifera but to which American vines are naturally resistant. Ben Feder founded Clinton Vineyards in 1974 and was inspired by French winegrowers in the Loire Valley and Burgundy who often focus entirely on one grape variety. His: the hardy, versatile seyval blanc.
Feder's initial releases were praised by New York Times wine columnist Frank Prial, who then introduced Feder to Christian Bizot, then-president of Bollinger Champagne. Feder went to France to visit Bizot, who had his cellarmaster show him round their cellars and production facilities, saying, "This is my friend Ben Feder. He is from New York and he is going to make spar- kling wine. There are no secrets here."
Feder went home and began making sparkling wine, unfazed by Bizot's reassurance to his cellarmaster that it was OK to talk freely in front of Feder because "in a million years, he will not make what we make."
Clinton's first sparkling wine was called Seyval Naturel, but it has spawned several follow-up wines, some of which diverge from Champagne-making traditions. The Jubilee is zero dosage — no sugar is added after the yeast has been removed—making for a drier, crisper wine. In the Peach Gala and Royale the dosage, instead of wine and sugar, consists of peach nectar; Nuit, their blackberry dessert wine, also adds fresh fruit aromas. Definitely not to be done in Champagne, though the latter resembles a pre-packaged Kir Royale—fittingly, as the Feders were pioneers in making NY-centric cassis.
Clinton, like Pleasant Valley, labels their wines as "Champagne," to the consternation of the French. According to Feder's wife, at one point the French did try to strong-arm her husband into removing the word from the label, but he told them to pick on somebody their own size.
Clinton and the rest are working within the law. Much of the world agreed that the term "Champagne" should be reserved for that small and famous part of France under the Treaty of Versailles in 1919. But the U.S. never signed that treaty; the nation launched the great experiment of Prohibition that same year, so it hardly seemed relevant. It wasn't until 2006 that the U.S. agreed to respect the European definition of the word "Champagne," but American producers already using the term were grandfathered in and can continue to do so.
The "méthode champenoise" is not the only way to get bubbles into wine. That second fermentation that creates the bubbles within a bottle can also be done in a tank and then pumped into bot- tles under pressure (called the "Charmat method"), or wine can be force-carbonated like beer and soda. Atwater Vineyards on Seneca Lake does just that for their "Bubble" wines — riesling for white and pinot noir for rosé.
The riesling came first and the pinot noir was introduced in 2011 — "a bit of an accident, if you will," says winemaker Vinny Aliperti. ("We had a little extra pinot noir…") Now both are an important part of their production. "Week after week it is probably our top seller, or at least in the top three," says Aliperti. "People like bubbles."
While upstate New York has a long history of making sparkling wine, today only Long Island is home to a producer devoted solely to bubbly. Tom and Cynthia Rosicki founded Sparkling Pointe in 2003, eager to join the North Fork's wine-growing community, hiring Gilles Martin, who had previously worked at Deutz in Champagne and Roederer Estate in California, as their winemaker.
In Champagne terms they are a grower-producer, growing all their own grapes, and they've planted their vineyards with the classic Champagne varieties of chardonnay, pinot noir and pinot meunier. Aging on the lees is an important part of making classic-method sparkling wine; Sparkling Pointe's Brut Séduction is aged for nine years before release and even the irregular brut ages for two and a half years.
It's expensive to have stock sitting around for all that time.
Eric Fry, winemaker at Sparkling Pointe's neighbor the Lenz Winery, likes to age all their wines before release, sparkling or still. "It's a real challenge for cash flow. I don't let the owner go down into the cellar; he gets nervous" looking at all the stock waiting to be sold. Lenz makes two sparkling wines, differentiated by how long they age. The less-expensive, younger sparkling wine, cuvée, only spends a year or so on the lees, but their R.D. ("recently disgorged," a practice made famous by Bollinger) ages for up to 12 years.
"It's really important to get that time on the yeast. Early on it's like soda pop: fruity. Later it gets really yeasty; the edges age off. It becomes yeast dominated rather than vintage or fruit dominated."
Fry decided to make sparkling wine at Lenz when he arrived in 1989. Previously they had used their pinot noir for a red blend. He says they could make a good red from their pinot noir in a good vintage but not in off years, whereas they could make a good sparkling wine from the same vines year in, year out. While earlier vintages used a classic blend of pinot noir and chardonnay, since 2003 the wines have been 100 percent pinot.
"When we we're tasting cuvées, the chardonnay was really good, but the pinot was wonderful every year."
Another sort of pinot, pinot blanc, goes into another North Fork bubbly: the Lieb Cellars Blanc de Blancs.
"We have used pinot blanc because it is very delicate and not hugely aromatic," says Logan Kingston, a former marketing director for Lieb, adding that the grape lends itself to making sparkling wine in the traditional method. They've been making the blanc de blancs since 1995 because co-owner Kathy Lieb is a big fan of bubbles made in the méthode champenoise and noticed other producers having success with it.
The wine caught the attention of Greg Majors, the beverage director at Craft, on a trip out East.
"A couple of years ago we drove out to the North Fork, and Lieb was one of the first places we visited," he says. "A light bulb went on." The idea? To make a sparkling wine specifically for Craft. Most of the winemaking is left to the experienced hands at the winery, but Majors decides on the all-important dosage.
Craft is hardly the only restaurant in Manhattan to catch on to the state's sparkling.
"I am very amazed by the quality of the sparkling wines" in New York, says Pascaline Lepeltier, wine director at Rouge Tomate, where they pour sparkling wines from Lenz, Long Island's Shinn Estate Vineyards and the Finger Lakes winery Hermann J. Wiemer.
"With our clientele we try to show the level of quality of New York wines," she says. "We have a lot of people from New York, and not a lot of them believe in local wines. It's people from abroad, from Europe, that get really excited. When they taste these wines, they say, 'This is awesome.'"
Fifteen Long Island wineries now make bubbly. Learn who, where, why and how here.
Photo credit: Justin Walker