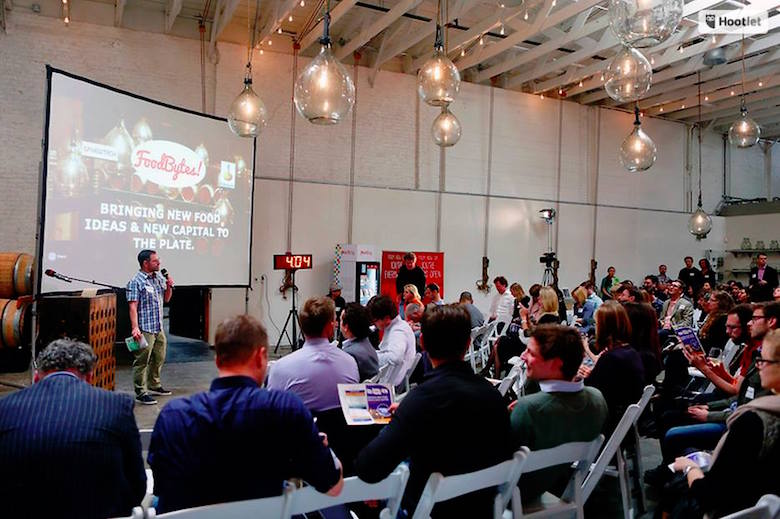 This month, we're gearing up to explore the latest ideas in food, innovation and technology with FoodBytes! by Rabobank. San Francisco's premier foodtech innovation event, the half-day summit is set to infuse the booming Brooklyn startup scene with a tantalizing taste of West Coast tech culture for the first time on Thursday, March 3.
FoodBytes! Brooklyn will take place at Williamsburg's chef-owned multidisciplinary venue The Hall at MP. Bringing together food startups, investors, technologists, the media and eaters, attendees will get the chance to explore the latest developments in food and agribusiness innovation. With predictions of a 60% increase in food demand over the next 30 years and an industry worth over $1 billion in 2014 alone, food is not only big news but an opportunity for business growth.
Local innovators will have the option to deliver impromptu 60-second pitches to investors during FoodBytes! Brooklyn. In addition, ten lucky startups will get the chance to showcase their business idea or innovation to the FoodBytes! audience. Food, agribusiness or beverages startups interested in presenting should review the event criteria and apply on the FoodBytes! website by 2:00 p.m. EST, Thursday, February 18.
Successful entrants also get a chance to receive the "People's Choice Award" seal of approval. Voting will take place at the end of the event with event attendees' favorite startup set to take the Brooklyn crown. Previous FoodBytes! People's Choice Award winners and runners-up include:
Winners will receive a logo to display their innovation credentials plus a chance to join over 300 of North America's leading food, beverage and agribusiness companies at event sponsor Rabobank's Client Appreciation Event later this year in New York City. The world's leading bank for the food, agribusiness and beverage industry, Rabobank is helping to bring more support to the food tech community, designating the city as a "hotbed of innovation, creativity and sustainability when it comes to food."
Bay Area networking meetup SF New Tech will be co-hosting the event to ensure FoodBytes! Brooklyn provides an opportunity for innovators to find the connections they need to succeed.
New York's own Food+Tech Connect, the world's largest site of record for the food and tech community will also be co-hosting the event. Danielle Gould, founder and CEO of Food+Tech Connect, says: "Together with Rabobank and SF New Tech, Food+Tech Connect is thrilled to bring together our communities of investors, industry leaders and disruptive startups at FoodBytes! Brooklyn. Our goal is to help the most promising innovations succeed, and FoodBytes! is a powerful platform for making that happen." As a presenting partner and co-producer of the event, attendees at FoodBytes! Brooklyn are sure to benefit from the Food+Tech Connect community's wealth of expertise and passion for problem-solving.
FoodBytes! Brooklyn is expected to draw over 300 attendees with tickets available to purchase online. With the local community primed to take advantage of this month's event, FoodBytes! sets both the stage and momentum for this summer's four-day celebration of Food Loves Tech. For a preview of both these events and beyond check out the continued coverage from now until June.