I love the holidays because there are so many homemade goodies. Gingerbread, jelly and butter. The combination of chocolate and peanut butter. As a dietitian, you'd think I'd be searching for a cookie with less fat, made with fruits or hidden vegetables. Instead it's the traditional buttery baked goods that I'm looking for.
It goes back to visits to my grandparents in Claremont, New Hampshire. Always there would be something homemade and delicious coming out of the oven as we pulled into the driveway. Because my grandfather owned a small department store that sold kitchen equipment, we had a coveted KitchenAid on the counter well before the appliance became commonplace. To this day I can't look at a KitchenAid without thinking of my grandmother and her cozy kitchen.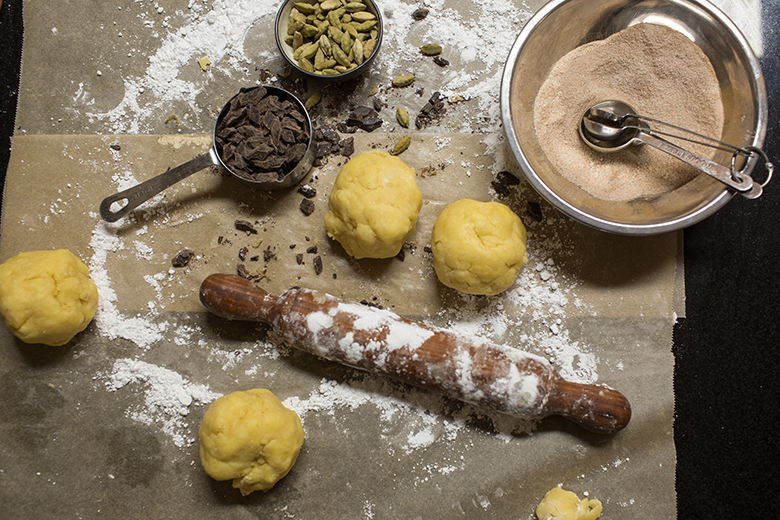 My fondest memories were of hanging out there with my mom, sister and grandmother, catching up on "gossip" while making vats of applesauce, jars of jam, and traditional Jewish baked goods. The applesauce and the jam came from tart apples and sweet berries, picked from the yard; for the Jewish holidays, we swapped maple syrup for honey, giving it that New England twist.
My grandmother's desserts weren't fussy. Her parents hailed from Ukraine, Lithuania, Poland and Russia, and many of her recipes had an Eastern European flavor. Like sponge cake with fresh fruit or sugar cookies sprinkled with cinnamon and sugar, they often contained yeast and were never too sweet. During the holidays, my grandmother would go all out, making cinnamon buns in the morning, then rolling out rugelach with a variety of fillings, such as raisins and nuts and raspberry and apricot jam, for after dinner. My mother continued her mother's tradition of scratch baking. (The only way we were allowed sweet treats in our house growing up was if they were homemade.) And now I carry it on as well, both personally and professionally.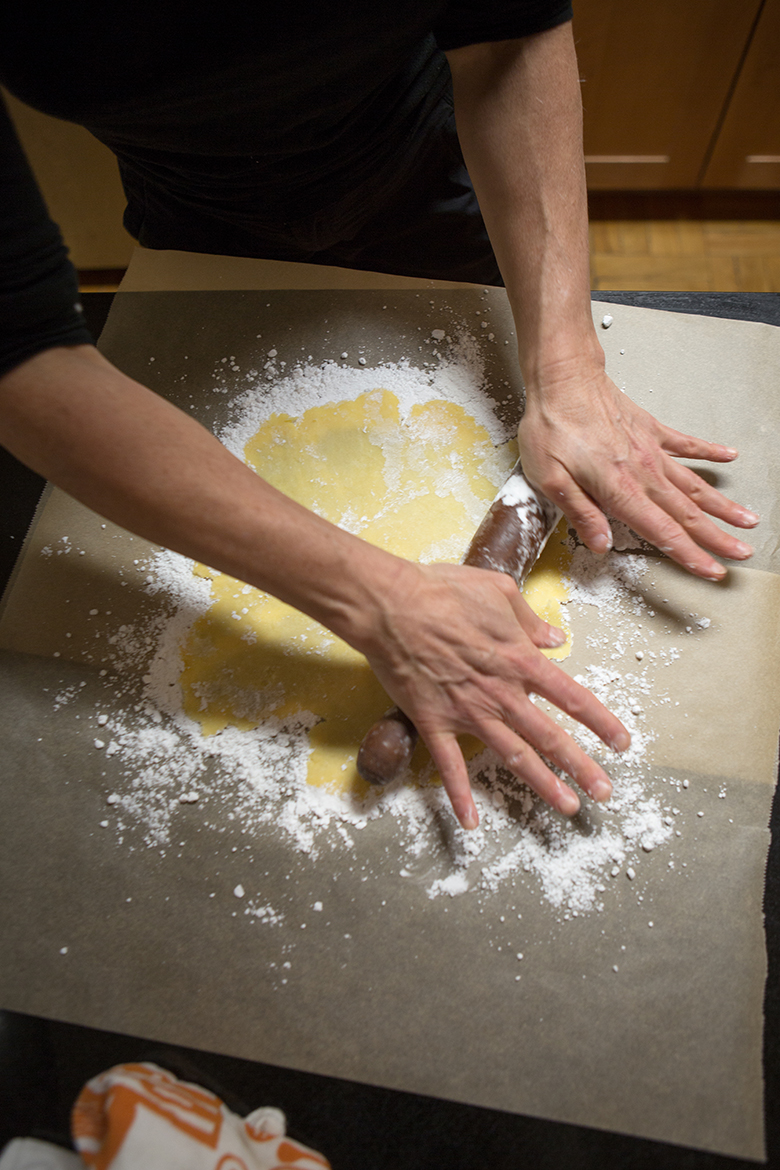 Recently my mother and I went through my grandmother's recipe box to look for holiday ideas. Among the note cards written in my grandmother's cursive, we came across our favorite rugelach recipe. It was from an old Sisterhood Cookbook. For anyone who has a Jewish grandmother, you've probably run across one of these cookbooks, created by synagogue women's groups as ways to raise money.
Like many of the desserts I enjoyed from my grandmother's kitchen, these cookies are rich and delicious without being overly sugary. They need to be rolled out, which takes a bit more effort, but once you start, you'll realize it's easier than you think. Especially if you have a few loved ones to gossip with while you're mixing and matching the fillings.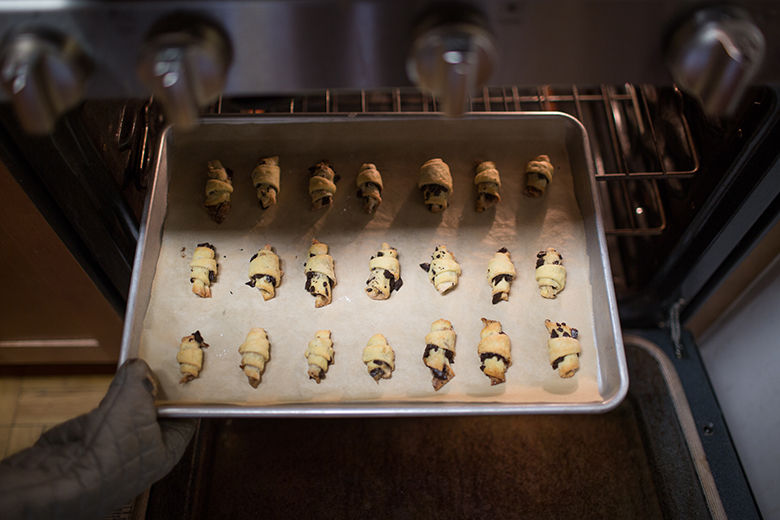 Anne B's Rugelach
Makes 64 or 128 cookies
INGREDIENTS
0.7-ounce package active dry yeast
6 teaspoons hot tap water
4 cups sifted all-purpose flour
1 teaspoon salt
¾ pound cold unsalted butter, cut into ½-inch pieces
3 egg yolks
½ cup sour cream
1 teaspoon vanilla
Confectioners' sugar, for rolling out dough and sifting on top
Note: mix and match your favorite fillings adjusting the amounts below. We loved the cardamom, chocolate and lemon combo, but you can always stick to the traditional jam filling or combine jam and chocolate. Top your cookies with cinnamon and sugar before they go in the oven or wait until they're cooled and sift some powdered sugar on top for a more festive look.
Filling and topping options:
Chocolate, Lemon Zest and Cardamom
½ cup granulated sugar
4 teaspoons ground cardamom or to taste
4 tablespoons lemon zest or to taste
4 cups finely chopped semisweet chocolate
Cinnamon and Jam
½ cup raspberry, apricot or your favorite jam
¾ cup sugar
1 tablespoon cinnamon
Simple Basic
1¼ cups chopped walnuts
¾ cup sugar
1 tablespoon cinnamon
DIRECTIONS
Preheat oven to 375°. Add yeast and water to a small bowl and mix well. Let stand 10 minutes.
In a large bowl add flour, salt and butter pieces. Add yeast mixture and blend with a pastry blender until crumbly and no chunks of butter are left.
In a small bowl, whisk together well the egg yolks, sour cream and vanilla. Add to flour mixture; knead until smooth.
Divide dough into 8 balls. Sprinkle confectioners' sugar on board or countertop when rolling out cookies. Roll each one out, one at a time, to about a 10-inch round.
Spread with chocolate, jam or walnuts and then about a tablespoon and a half of sugar or cinnamon sugar if using. Using a pizza cutter or a knife, cut dough into 8 or 16 equal pie-shaped pieces. Roll triangle from wide part to the narrow point. Place on cookie sheet lined with parchment.
Before putting in the oven, sprinkle with cinnamon sugar mixture or skip this step and sift confectioners' sugar on top after they've cooled. Bake at 375° for 15 to 20 minutes or until light brown and cooked. Remove from oven and baking sheet and place on a rack to cool.
Store in an airtight container for about a week or can be frozen for a month if you want to get a jump on your holiday baking.