This is a very tasty, crowd-pleasing recipe that uses the fresh cranberries we see pop up in grocery stores every autumn. The cranberries are first prepared by macerating them in a bit of sugar to bring out the sweet/tart flavor, which in turn gives such a bright pop to the cookie. At The Good Batch, we also make a pistachio flour that brings a little more depth to the cookie. This shortbread is a bit on the savory side, which can be a nice break from all the heavy sweets we see this time of year.
Fresh Cranberry + Pistachio Shortbread
Yields 24-30 Cookies
Ingredients
¾ cup (80g) fresh (bagged) cranberries
½ cup (100g) + 2 tablespoons white sugar
¾ cup (85g) toasted pistachios
2 ¾ cup (325g) all-purpose flour
½ teaspoon salt
¼ teaspoon baking soda
1 cup (225g) soft butter
¼ cup (50g) light brown sugar
1 egg
½ cup (80g) white chocolate chips
Maldon Salt, to taste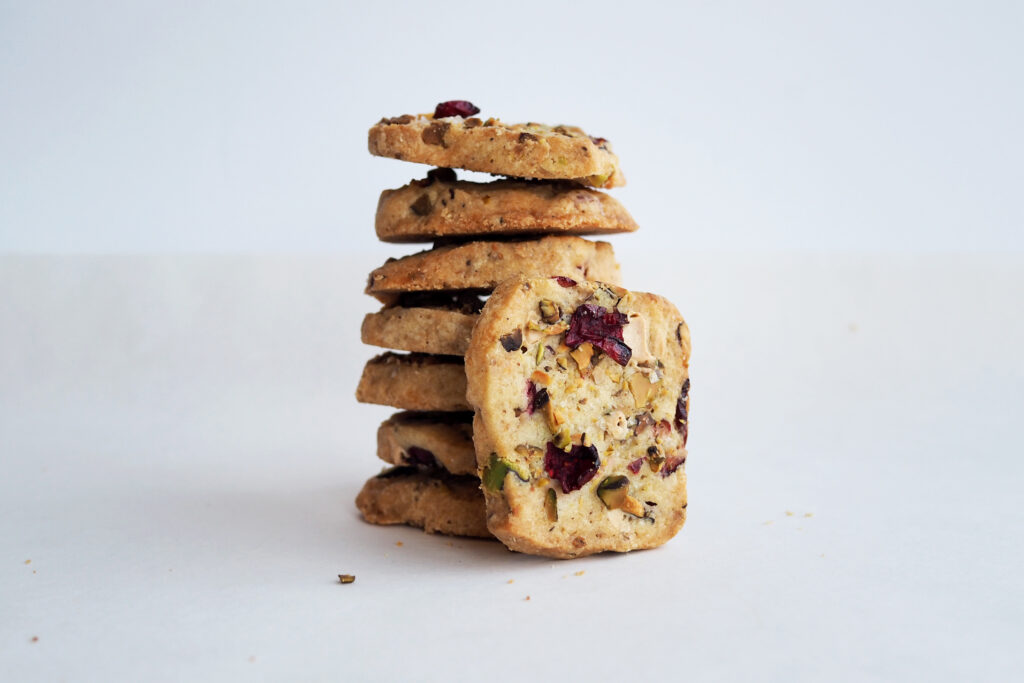 Method
Rinse the cranberries and cut each into quarters. Place them in a small bowl, toss with 2 tablespoons of white sugar and let macerate at room temperature for one hour.
Place 1⁄4 cup toasted pistachios in a blender or spice grinder and grind them into a flour-like consistency. Place the pistachio flour in a bowl and add the all-purpose flour. Using a knife, chop the remaining pistachios coarsely, setting aside 1⁄4 cup of the chopped pistachios for topping the cookies later. Add the remaining chopped pistachios and to the ground pistachio/flour mixture. To this, add the salt and baking powder and set aside. In a stand mixer fitted with the paddle attachment, cream butter with sugars until light and fluffy. Mix in egg and scrape down bowl. Slowly add in the flour, pistachio, salt, and baking soda mixture, then add the white chocolate chips. Once almost all floury bits are gone, add in the cranberries, discarding any juice.
On the counter, lay down a piece of plastic wrap, and transfer half of dough onto its surface. Fully cover with plastic to avoid your hands getting sticky, and as if you are making a play-dough log, roll the wrapped dough into a roughly circular or square log, approximately 2" in diameter. Repeat with remaining dough. Place logs in the refrigerator, and every 20 minutes, re-roll into a more refined shape. Once fully hardened, the dough can be sliced and baked. Alternately, you can store it in the refrigerator for one week, or in the freezer for up to two months.
Preheat the oven to 325° (convection) or 350° (standard). Line a baking sheet with parchment paper. Remove plastic wrap from dough log and cut into 1⁄2" slices. Place these on the baking sheet (these cookies do not spread much), and sprinkle with the reserved chopped pistachios and flaky sea salt. Bake 20-24 minutes, rotating halfway through. Cookies are done when fragrant and edges become golden brown. Allow to cool. Enjoy!
RELATED: This Strawberry Shortcake Recipe is Perfect for Summer
Photos and recipe by Anna Gordon, Chef/Founder of The Good Batch.