A Different Sensuality
At first glance, the interior of Commerce Inn is shockingly different from that darling of every New York–based food writer, Via Carota, whose interior sightlines bob and weave over varied textures and many sensual things. For the hungry eye, Via Carota offers distressed bricks, a 15th-century door knocker, potted fruit trees, a bronze boar, and rustic furniture repurposed as wine storage. Executed by less artful hands, it might feel hectic—but entering this restaurant created by chefs/owners Rita Sodi and Jody Williams feels like coming home for a particularly cheery meal.
Commerce Inn's sensuality is not as extraverted, but it's no less felt. It's there in the scars on its evidently storied, reclaimed floorboards. It's there in the spectacularly curved Windsor banquette that wraps half the dining room, its elegant spindles tapering as they meet a seemingly endless top rail. It's there in the way that its POS system is tucked away in beautiful wooden drawers that glide out and back without a sound.
The calm décor at Commerce Inn takes inspiration from the Shaker movement, whose American origins are in the Hudson Valley. Mount Lebanon in New Lebanon, NY—the first official Shaker community in the U.S.— was established in 1787 by the originator of the American Shaker movement, Ann Lee. Shaker societies like the one at Mount Lebanon fostered industry and innovation; members of the sect are credited with numerous unpatented inventions including the circular saw, the clothespin, and the screw propeller. Their dwellings featured novel elements like peg rails for hanging chairs out of the way of sweeping or dancing. At Commerce Inn, Sodi and Williams use dual chair rails for drying herbs; they also use brooms of Shaker design.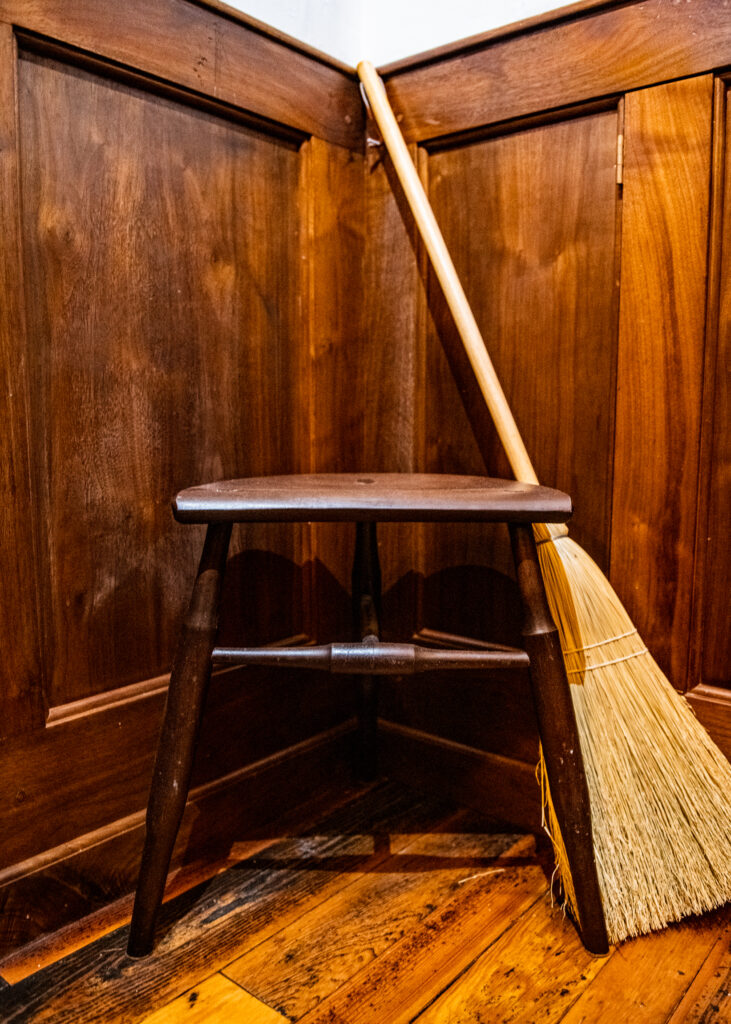 After their mid-19th-century height, Shaker populations rapidly dwindled; the last seven remaining Mount Lebanon Shakers departed in 1947. If noticed at all, the sect was considered an esoteric, slightly embarrassing cultural relic. The Shakers might have been forgotten had their functional, spare aesthetics and innovative designs not been discovered by modernist design intelligentsia in the 1930s. Later, Shaker material culture was also embraced by Mid-Century Modern tastemakers, including Paul McCobb, who emulated Shaker design and its demonstration of the modernist precept, "form follows function."
Inspiration
In the creative process of developing Commerce Inn, Sodi and Williams were inspired by the Shaker Museum in Old Chatham, NY, which is about 15 minutes away from the Mount Lebanon Shaker village. Says Williams, "People at the museum invited us over [visits are by appointment only], and we drove up to Old Chatham, and we were just blown away; we really began to see the potential. We decided that, if we do this, we have to find a way to honor all this history and not just choose pretty objects, as in 'I like this, and I like that.'" The partners were particularly moved by the Shakers' radically progressive social beliefs. "Lacy [Schutz, the Shaker Museum's executive director] told us that it's all about gender equality. I mean, it was run by both men and women. And, you know, it was about racial equality, too. Think about that, back in those times."
"They were dreaming a dream. And they were actively creating a utopian society," Williams says. "Everything was functional. There wasn't room for idleness or creating something just for beauty. Everything was simple and had function. For us, it's a reminder to shed excess."
At Commerce Inn
Like the Shakers, nothing that Sodi and Williams do is accidental. As partners who, both separately and together, own many of NYC's most thronged restaurants—I Sodi, Via Carota, Bar Pisellino, and the Buvette on Grove Street (plus four more Buvettes on three other continents)—they can afford the luxury of time. They took the space on Commerce Street before the pandemic, not that they were looking, but because they thought they might regret seeing such a pretty space go to a competitor. Then they used the ensuing three years to conceive, refine, and carefully execute their ideas until each detail contributes to a space where they want to work. Or more than just work, because as married creative collaborators who live in the West Village among their NYC businesses, they consider their restaurants to act like satellite rooms in their home.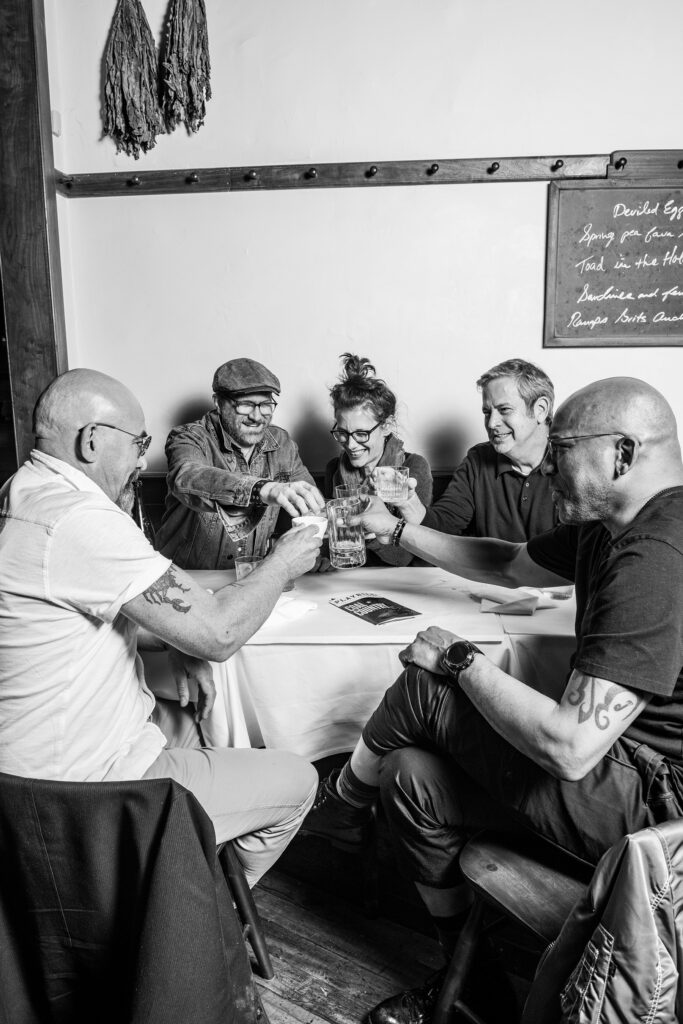 As Williams puts it, "You know, we built I Sodi on Christopher Street and that Buvette on Grove Street, and then worked hard for 15 years to build Via Carota and Bar Pisellino. These are places where we work, eat, and live every day. In the afternoon, we have that aperitivo at Bar Pisellino à la Milano or Firenze. We build places where we want to be and where we want to serve people."
Sodi adds, "And that's what I think is the magic of our places. I feel like they're magic because every time I go inside of our places, I feel like it's my place."
What they don't do is plug-and-play design. Says Williams, "We stay away from restaurant traps and standardization—you know, votives on the table just to have votives." They worked with Ben Bischoff, AIA and member of the Shaker Museum's Board of Trustees, to refine details of Commerce Inn's design, and they searched far and wide to source materials that they found soulful. Commerce Inn's floor and ceiling came from a Virginia company store that had been used as a train depot. "So it comes with a lot of power, a lot of history, a lot of provenance that resonates for Rita and me—the story behind the old black-and-white photos of this company store with its cast-iron stove in the middle that was used as a train depot because it was so far out in the Virginia country."
As self-sufficient, mostly farm-based communities, the Shakers practiced farm-to-table cooking on a collectivist scale. "You rang a big bell, and, you know, 80 or 90 people came in to eat all at once. You had massive kitchens, baking, and beans in pots going all night—and, you know, making strawberry shortcake." Williams adds, "And there's a huge archive of recipes that we can cull from."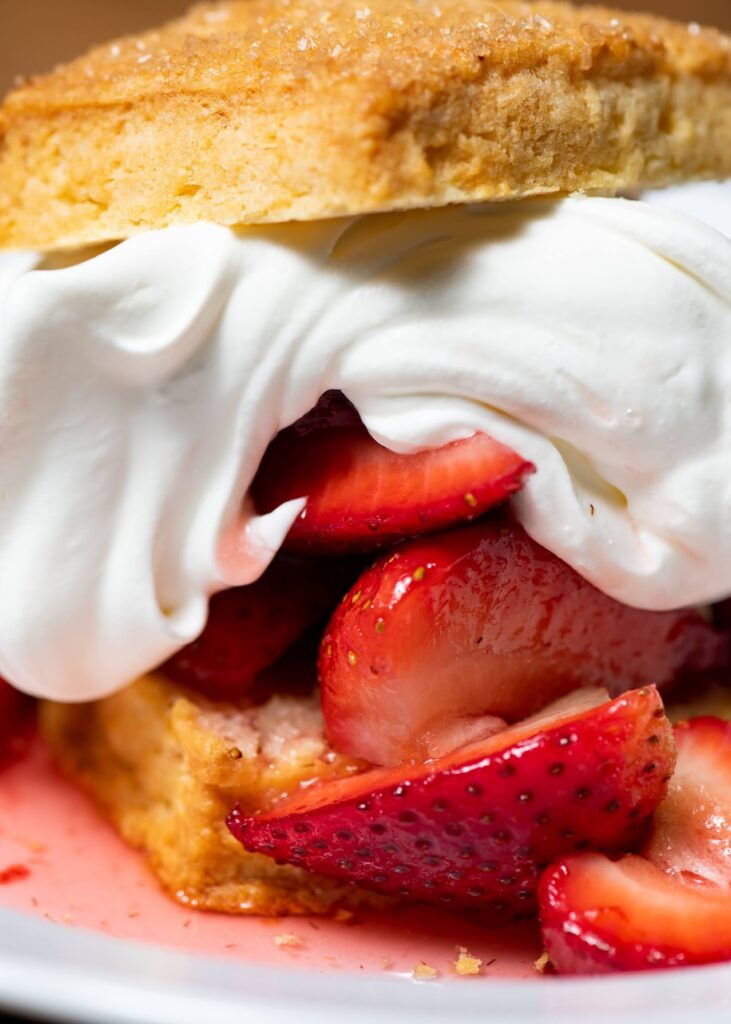 The menu at Commerce Inn evokes the Shakers in that the sect was founded in this country by an Englishwoman. There are elements of both cultures represented here: Shaker baked beans and country ham; Welsh rarebit and jugged rabbit. Says Williams, "There's a lot of food that we don't make at Via Carota or Buvette that we love, you know. We want to be able to fry chicken, make buttermilk vinaigrette and dill bread. And have cheddars and make trifle … we love to eat this stuff!" Rita Sodi, a Florentine whose background is evoked at Via Carota, Bar Pisellino, and I Sodi, ate her very first pancake while recipe testing for Commerce Inn. But while the partners appreciate history, they're never slavish. The couple's flair for sophisticated vegetables and crisp greenery, so prominent at Via Carota, is also evident at Commerce Inn. Meanwhile, its all-American wine list and serious cocktails satisfy the modern diner's expectation of a buzz.
RELATED: What's Good Here: Via Carota
Sodi and Williams believe in organic growth. At Commerce Inn, ornament will follow function. "There'll be more preserves and herbs drying and stuff … that's part of the character here. But the real star of the room should really be you sitting here with your friends and your family. You know, breaking bread, eating and hanging out drinking in the tavern."
Recently, Sodi and Williams took over the old Mexican Radio spot at 537 Warren Street in Hudson, NY. They have a place just outside of town that they flee to for a day or two per week. So far, they have no plans, no pre-baked, chainable "concept"—instead, the pair are gathering their thoughts. They're listening to the building, listening to history, listening to Hudson, and taking their time. You can look for their next venture sometime in 2023.