Grilling season is here so I partnered up with Aussie Beef to show you one of my favorite pool-side summer sandwiches, but with a "good for you, good for the planet" upgrade with sustainably raised Australian grassfed beef. This recipe will be your favorite handheld bite this summer, even if, like me, you don't have a grill!
RELATED: Grazin' Gets NYC to Take the Pledge to #GoGrassfed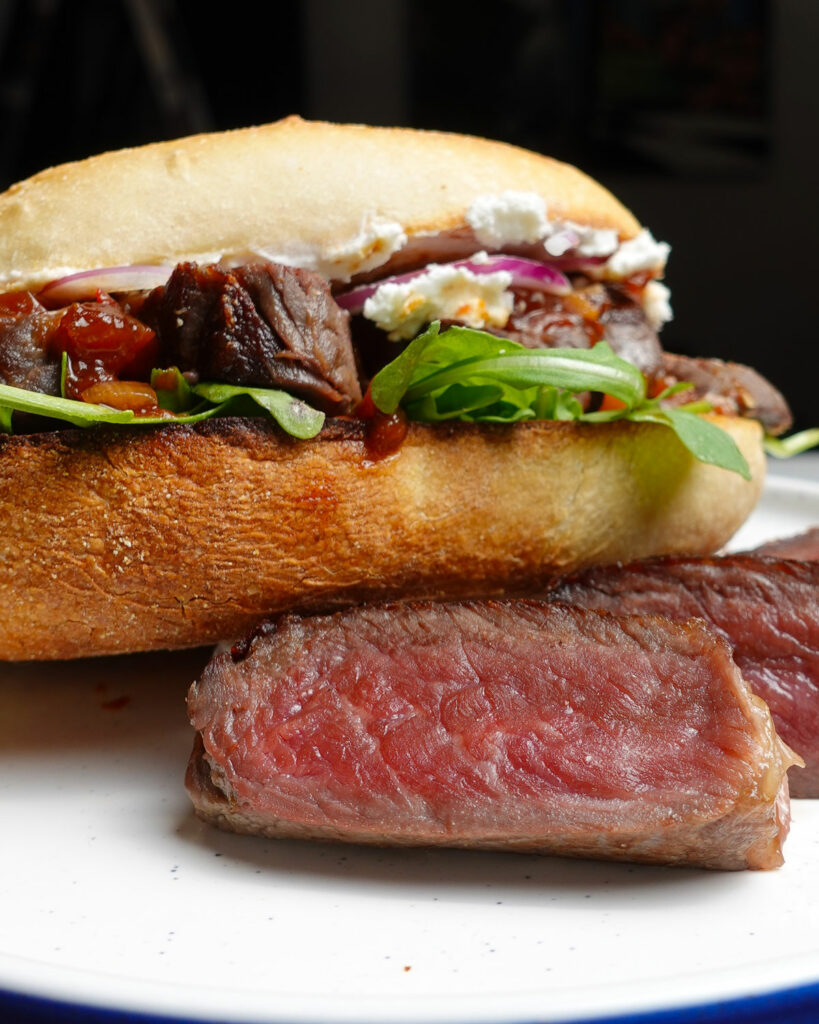 INGREDIENTS
For the Sandwich
1 Australian grassfed NY strip steak (where to buy)
Salt & pepper to taste
Tomato jam (recipe below)
2 tbsp high smoke point oil (avocado, peanut, canola, sunflower, sesame oil)
1 loaf ciabatta, split lengthwise in half to make the sando's top and bottom
Goat cheese (to taste)
A handful of arugula
½ a red onion, sliced thin
For the Tomato Jam
2 pounds fresh plum or Roma tomatoes, cored and cut into 1-inch chunks
¼ sweet onion, finely diced
1 lemon, juice and zest
2 cloves garlic
1/2 cup packed dark brown sugar
1 tablespoon balsamic vinegar
1 teaspoon kosher salt
1/2 teaspoon ground ginger
¼ tsp ground cinnamon
1/4 teaspoon smoked paprika
1/4 teaspoon red pepper flakes
METHOD
Pat the Aussie Beef NY strip with paper towels to dry, then liberally season the steak with salt & pepper. Set it aside to rise to room temperature while you make the tomato jam. In a heavy, medium saucepan set over medium-high heat, combine the tomato jam ingredients. Bring these to a boil, then reduce heat to low. Allow the jam to caramelize slowly over low heat, stirring frequently to prevent scorching, until the jam is thick and spreadable. This may take a couple of hours.
When the jam is thick, rub the steak with the oil and start cooking the steak using your preferred cooking method (grilling or pan-frying works nicely). Once it reaches your preferred doneness, allow the steak to rest on a plate for at least ten minutes. After ten minutes, cut the steak across the grain into thin slices and return those to the plate holding the steak juices. Meanwhile, over a hot grill or under a broiler, toast the cut sides of the split ciabatta loaf until they're golden and crispy. When golden, remove from grill or broiler and spread a layer of goat cheese and tomato jam on both halves of the loaf. Cover the bottom of the loaf with the steak slices, being sure to add any reserved meat juices. Season to taste with salt and pepper. Cover the steak with sliced red onion and arugula. Gently squash the sandwich to make it a bit more cohesive and cut crosswise into two. This