Summer 2023 is formally—officially—to be renamed Steak Salad Summer™. I don't make the rules. Actually, I do—and if you follow me on Instagram you know that my summer vibe has been all about juicy, perfectly crusted steak over (or alongside) gorgeous produce.
This brings me to another point: the word "salad" has always been up for interpretation at my house. I think the first time I actually saw lettuce in a salad was when I went to (insert large Italian chain) with a friend's family in middle school. We Eastern Europeans do salad differently—tomatoes, cucumbers, radishes, onions are all welcome … but lettuce? Rarely. I don't dislike lettuce per se, I just don't think it's doing much: it's a passive salad bystander there to feign health and appease the masses. Grilled lettuce is a different story, but listen—we're not here to talk about lettuce. We are here to discuss Australian grassfed ribeye and the ideal way to serve this gorgeous piece of nutritious, naturally lean beef. For me, that means an umami-packed compound butter, roasted garlic, and—of course—some salad.
RELATED: Grazin' Gets NYC to Take the Pledge to #GoGrassfed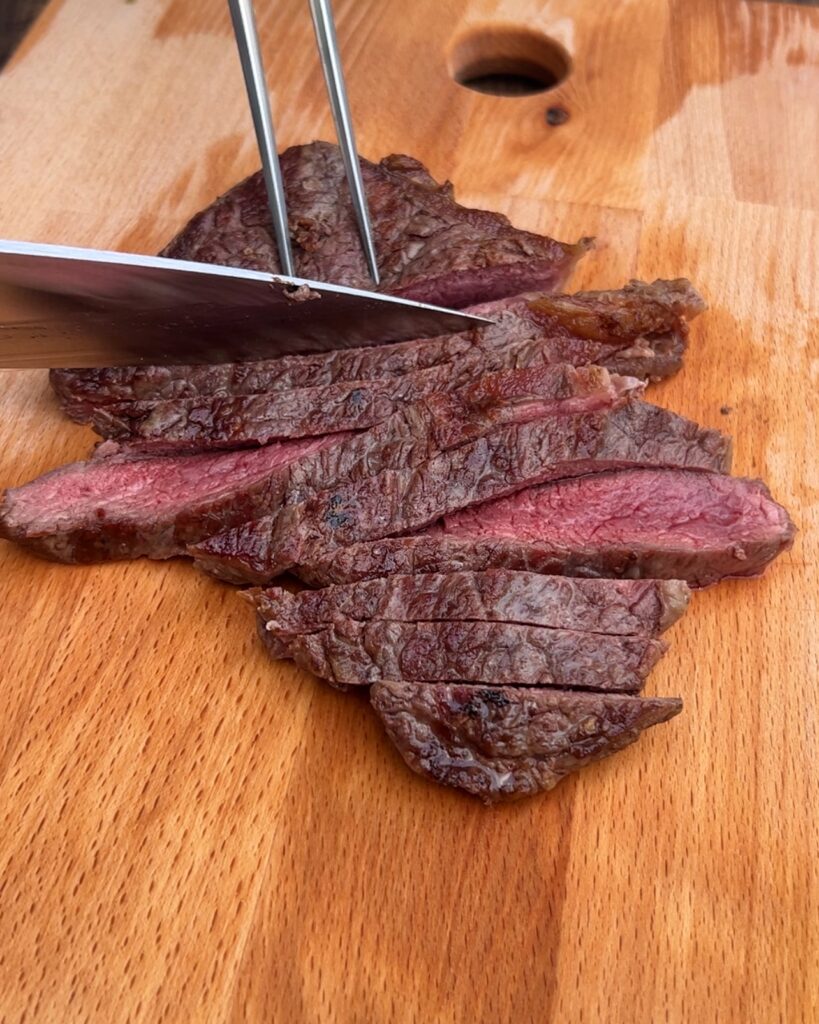 While I'm preaching, it is my personal belief that anchovies make everything better. Truly, a few chopped anchovy filets in the herby compound butter served with this steak add an unbeatable layer of umami that brings out the earthiness of the meat. I like to serve whole heads of roasted garlic with the steak because it's delicious and beautiful, but if you want to be a little less of a sadist, you can do the work for your guests and squeeze the roasted garlic directly into the compound butter. Steak is the main event, but a juicy heirloom tomato salad (sans that objectionable lettuce) and grilled baby eggplants with a smoky aioli? Now we're in business. Happy Steak Salad Summer™️ to all who celebrate.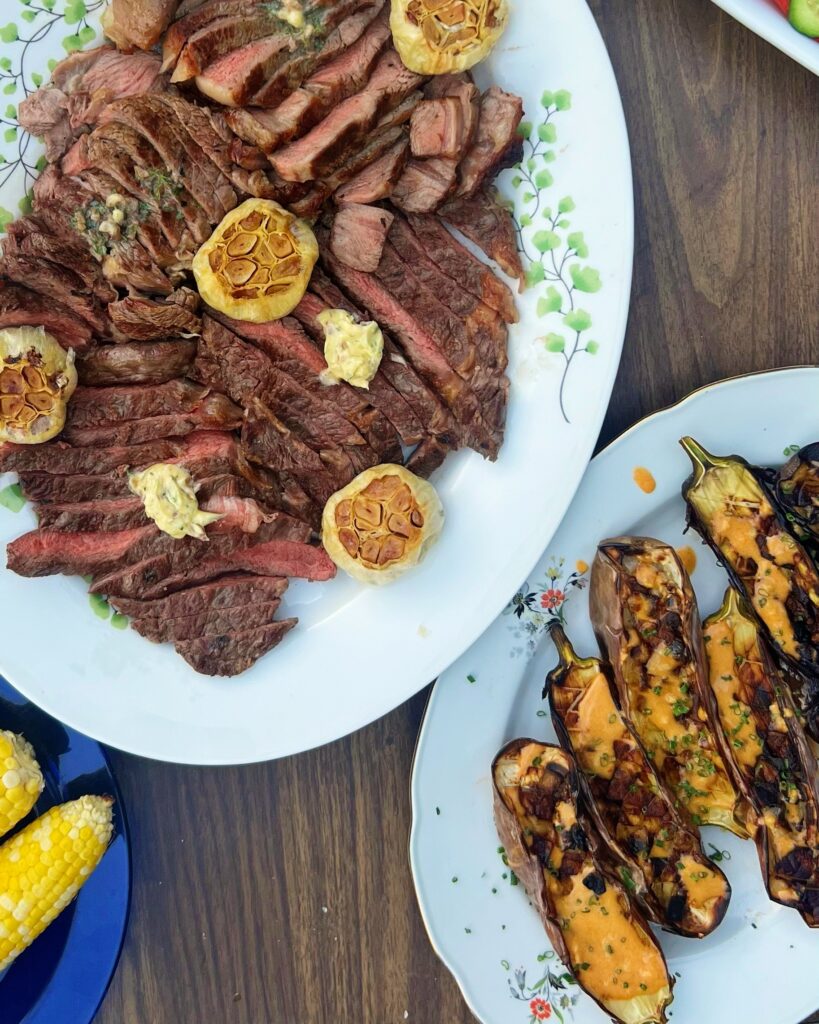 Grilled Australian Grassfed Ribeye with Roasted Garlic & Anchovy Herb Compound Butter
SERVES 2
INGREDIENTS
For the Steak
2 Australian grassfed ribeye steaks (where to buy)
Kosher salt
Neutral oil
For the Roasted Garlic
4 bulbs garlic
Extra virgin olive oil
For the Compound Butter
1/2 stick unsalted butter, room temperature
4-6 anchovy fillets, finely chopped
2 sprigs rosemary, finely chopped (about 1 tablespoon)
1 tsp fresh dill, chopped
METHOD
Heat the grill to 450° and sprinkle the steaks liberally with kosher salt. Allow the steaks to tenderize while you prepare the roasted garlic.
Slice the stem ends off the heads of garlic to expose the cloves. Drizzle with olive oil, add a sprinkle of salt, and then wrap the heads, cut end up, in foil. Place these on the grill (ideally, in a less hot location of the grill—these should roast slowly). Cook for about 30 minutes, checking periodically to make sure the garlic doesn't burn. The Remove when the heads are soft and golden brown.
While the garlic is browning, make compound butter. In a small bowl, combine the butter, herbs, and anchovies and mix well. Add salt to taste, if necessary, but the anchovies should be plenty salty.
When the grill is fully heated, rub the steaks with oil and place them on the grill. Cook time will depend on the thickness of the steaks, but grill for several minutes on each side until the steaks reach your desired temperature. Remove the steaks and set aside to rest. After 10 minutes, slice the steaks and serve with roasted garlic and anchovy and herb compound butter. Accompany with dishes below.
Grilled Baby Eggplant with Smoked Paprika Aioli
SERVES 2
INGREDIENTS
4 baby eggplants, split lengthwise
Olive oil
3 cloves garlic, finely minced
1 teaspoon smoked paprika
½ teaspoon cumin
2 egg yolks
¾ – 1 cup neutral oil
Fresh lemon juice, to taste
Salt, to taste
1 tablespoon water
METHOD
Heat your grill. Score the cut side of the eggplants in a crosshatch patten, rub the cut side with olive oil and sprinkle with salt. Place the eggplant halves cut side down on the grill and cook until the cut side is golden, then turn over. The eggplant is fully cooked when it is soft all the way through. When done, remove the eggplant from the grill and set aside while you make the aioli. In a medium bowl, whisk together garlic, egg yolks, paprika, and cumin. While continuing to whisk, slowly add the neutral oil—start very slowly, a dribble at a time: as the aioli thickens, you can go a bit quicker. When it's thick, add lemon juice and salt to taste. I like to add some water to thin out the aioli for drizzling purposes. Drizzle over the grilled eggplant and serve.
Tomato Salad
SERVES 6
INGREDIENTS
4 heirloom tomatoes, sliced into rounds
2 Persian cucumbers, sliced into rounds
4 radishes, sliced into rounds
½ red onion, thinly sliced into batons or rounds
Salt to taste
Extra virgin olive oil
2 tablespoons of crumbled feta cheese
METHOD
On a serving platter, layer the tomatoes, cucumbers, radishes, and onion, making sure to sprinkle salt and drizzle olive oil over each layer. Garnish the salad with crumbled feta and more olive oil.