The Bushwick Bartender Who Just Might Know Everyone's Name
If you've been to Carmelo's, the Bushwick bar known for its cheap drinks, pool tables, and unpretentious energy, you've probably met James Walker. Unmistakably warm and unfazed by the chaos that comes with the job, it's no surprise that he is a fixture behind the curved wooden bar. "My favorite bartenders make me feel welcome," Walker says over the crack of billiard balls. "I try my best to do the same."
Spanning the corner of Dekalb and Irving, the cavernous bi-level space was once home to the Imperial Theater, a knitting factory, and, allegedly, a tailor for the mafia. This was all before the neon red Carmelo's sign was hung above its heavy double doors in late 2017. The bar is owned by the same people who run Twins Lounge (732 Manhattan Ave.) and The Narrows (1037 Flushing Ave.), so Walker spends his work week floating between the three. However, Carmelo's is home base. "Carmelo's is like grandma's house," he says. "I've been there the longest, so I know half the room."
Within 15 minutes of sitting at the bar, it becomes clear that he isn't exaggerating. Every other person approaching him is met with a memorized drink order, excitement typically reserved for two friends reuniting or the continuation of a conversation from days or weeks prior. "The people are my favorite part of bartending," Walker says. "I like being a part of somebody's day." He points to one man across the room. "Like today, that guy in the black shirt just got his green card," he says. "I've been serving him for four years, he told me [about his green card] when he walked in, and we both teared up. We don't see each other outside of the bar, but it feels like you're a real part of each other's lives."
As the night continues to unfold, so do the conversations around me. A blonde woman sitting at the end of the bar outlines the pros and cons of what sounds like her romantic relationship. Walker nods while pouring her drink—a Naked & Famous, his favorite drink both to make and to order—into a chilled coupe glass. "Well, are you happy?" he asks. As she mulls over his question, a man squeezes next to me, ready to order, and Walker preemptively reaches for a bottle of orange wine. "It's really the little things that make people feel welcomed," Walker says after the man walks away with his glass. "[Orange wine] is all he ever drinks, you know? So why would I act like I don't already know that?"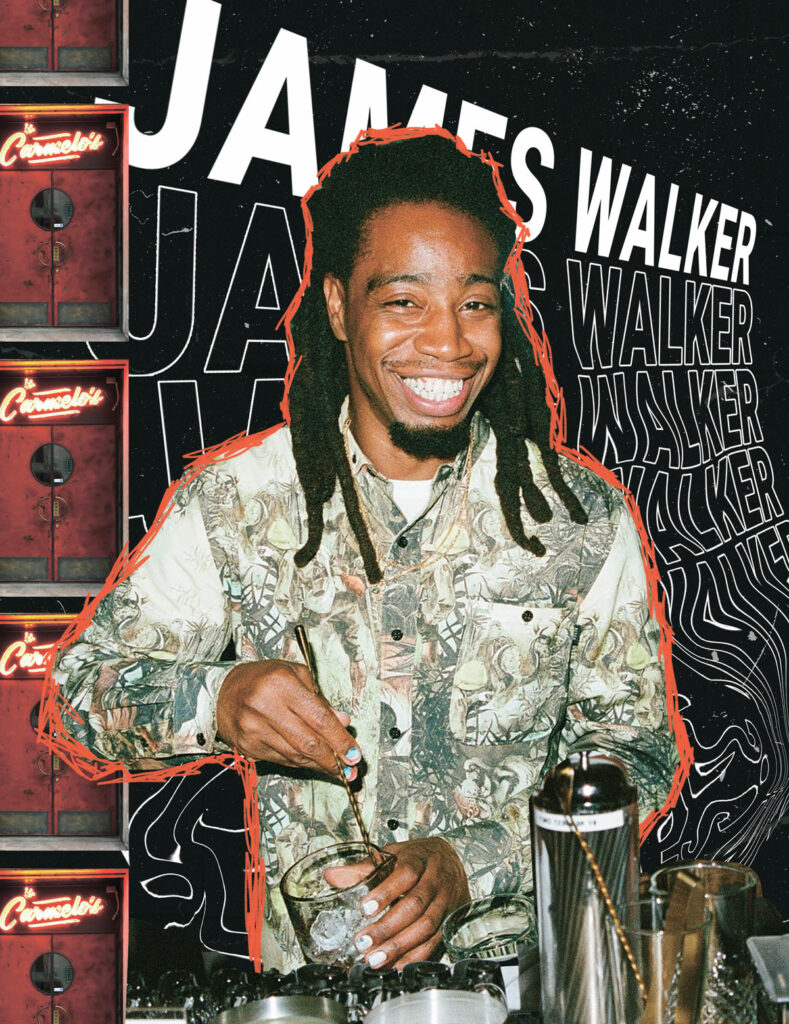 Towards the end of our conversation, moments before he offers me a shot of whiskey to toast to the end of our interview, I ask him the one question lingering in my notes. What is the wildest experience he's had behind the bar?
"Hm … one that's also not self-incriminating?" he jokes. "Honestly, one of the craziest things has actually happened twice." Since Walker typically works the closing shift, he'll leave the bar around 5am, an hour after the bar is empty. "I go to use the bathroom before leaving the bar one night and it's locked," he says. "It's 5:30 in the morning, we've been closed for an hour and a half, I haven't seen anyone in the bar since then." After knocking on the door without any response, he uses the master key to let himself in and finds a person sitting on the toilet, asleep. "The last time I saw him was maybe 1:30, I thought he had left hours ago," he continues, laughing. "So, I wake him up, and [once he realizes where he is], he tries to order a beer. I tell him no, that we're closed, and that he needs to leave. Then he nods, grabs a crystal ball that he had brought with him, steps outside, and walks home as the sun rises. The next time I saw him, he didn't remember."
As the background music gets louder and the crowd around the bar tightens, I gather my things and take a last look around. Every neighborhood has its staple bars, the places where you're bound to see familiar faces, and the bartenders know more than just your name. It's not news to anyone that these bars often serve as a microcosm of society, a place for more than just a shot of tequila, a cold pint, or a dirty martini. Carmelo's is the same. "It's a real representation of the neighborhood," Walker says. "Seeing everyone coexist in the big-ass room is a trip."
---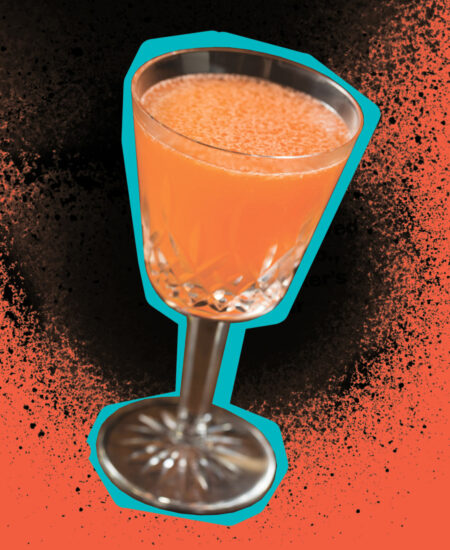 NAKED & FAMOUS
Originally Served at Death & Co., James Walker's favorite bar
MAKES 1 COCKTAIL

INGREDIENTS
¾ ounce Aperol
¾ ounce lime juice
¾ ounce mezcal
¾ ounce yellow chartreuse

DIRECTIONS
Combine all ingredients in a shaker filled with ice. Shake until well-chilled, then strain into a chilled glass. Serve.